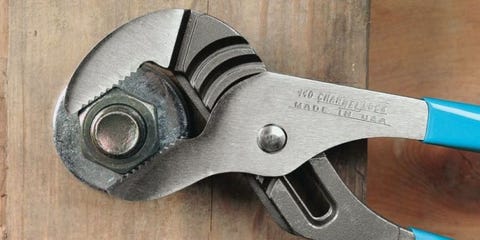 The majority of hand and power tools that were at one time manufactured in America are now being produced offshore, like most consumer products. But there are a few stalwart tool companies that have remained committed to being Made in America, not only investing in the U.S. economy and creating jobs, but also making safe products with great quality control.
Here are eight you should consider.
Since 1923, the family and its employees have been designing and manufacturing hammers, axes, specialty tools, and pry bars. Their iconic leather handled hammers and hatchets are a thing of beauty, and everything is produced in their Rockford, Illinois plant.
Channellock
amazon.com
$15.98
Founded in 1886, is a leader in the manufacturing of high-quality pliers and assorted hand tools. It employs over 350 people in their Meadville, Pennsylvania, factory and is committed to the plumbing, automotive, and electrical trades.
Klein Tools
amazon.com
$26.32
Klein has been producing tools since 1857, and has made a name for itself with its and tools for electricians around the world. Lineman's pliers are invaluable for gripping, twisting, bending, and cutting wire and cable.
LEATHERMAN
amazon.com
$56.75
Arguably the number one name in multi-tools, Leatherman has been producing its iconic tools in Portland, Oregon since 1983. Each model like the Skeletool (shown here), has its own legion of fans. When your brand becomes a generic name for the type of tool, then you've officially arrived.
Vaughn and Bushnell Hammers
Vaughan & Bushnell
amazon.com
$28.06
is best known for its reliable striking and prying tools. The company has been making them in America since 1869, and fifth generation Vaughn family members are still at the helm of the company.
Hardcore Hammers
amazon.com
Estwing and Vaughn have been around for decades, but we also enjoy seeing the success of new tool upstarts finding their way. was started by two brothers who were carpenters and frustrated with the performance of their framing hammers, so they built their own. They continue to produce hammers and hatchets in Shawnee, Kansas.
Lie-Nielsen Toolworks Bench Planes
was founded in 1981 to revive popular, but discontinued, woodworking tools. Lie-Nielsen produces over 100 types of planes, saws, spokeshaves, and chisels, meant to last for generations.
Eklind Tool Company
amazon.com
Founded in 1923, was founded in 1923 and solely focuses on producing high quality hex keys. It's likely you've got one of their T-keys, fold-ups, or Torx keys, in your tool chest. Eklind employs over 100 people in the Franklin Park, Illinois factory.