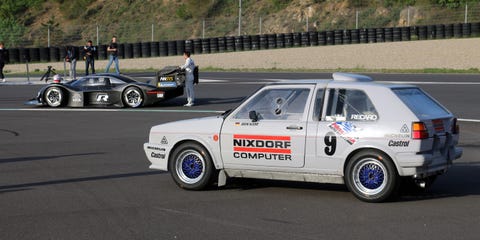 For 1987, Volkswagen built a fast Rabbit. A really, really fast Rabbit with two hearts and a body that put a Group B car to shame.
Built like a Lancia-Abarth #037 or Delta S4, except with two engines.
1987 was the third and final race of VW's twin-engined Pikes Peak special.
While the 1985 version used a pair of 1.3 Polo engines with a turbocharger, from 1986, VW upgraded to the 1.8 16-valve Golf motors.
Audi won Pikes Peak in 1985, '86 and '87 as well. Mostly because the Quattros had wings, unlike VW's Golfs.
Monocoque chassis, fiberglass/Kevlar body.
The Pikes Peak Golfs were built by open wheeler specialist Kaimann Racing in Vienna, Austria.
34 liters, or 9 gallons or racing fuel for two engines and a roughly 11 minute run.
Formula-3 style suspension.
Fresh Pirelli Corsas, slightly toasted.
Look out for the caimans.
Sufficient lighting at 14,110 ft.
It had to look like a Golf.
Turbo engines never rev as high.
Hewland Formula-2 gearbox.
325 horsepower at the front.
A body that's 20 cm (7.87 inches) wider than a stock Mark 2 Golf.
Sidepipe at the front, regular setup at the rear.
Soundproofing behind the driver.
Extra cooling, engine moved forward...modified grille.
Light, purposeful, lovely.
Austrian-made, like the G-Wagen.
It's done more than that.
Этот полезный сайт с информацией про
все для кальяна
.