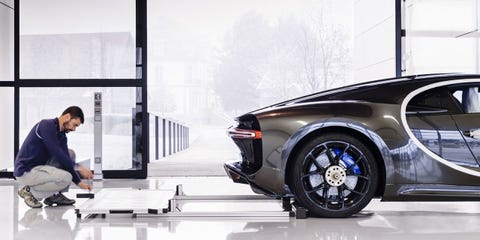 Benjamin Antony Monn for Bugatti Automobiles S.A.S.
Bugatti's factory, or "Atelier," is located at the company's headquarters in Molsheim, France.
The factory was built in 2005 for Veyron production, and upgraded for the Chiron.
This is where the 1500-hp engine and dual-clutch gearbox are connected.
You won't find a conveyor belt at Bugatti's Atelier. Everything is done at individual stations.
Here's where the rear-end–which contains the engine and gearbox–gets bolted to the carbon fiber monocoque.
Everything is assembled around the engine and gearbox.
Big power requires a big dyno.
Bugatti sends excess power generated on the dyno back to the power grid in Molsheim.
Each car is tested to be leak-proof, even though many Chirons may never see rain.
It takes around three days to complete the interior.
Each car is wrapped in a layer of plastic for its final test drive.
Each Chiron is tested at an airport at speeds of 250 km/h (155 mph). As if you needed another reminder that the Chiron is unlike anything else.
Here, a worker adjusts the Chiron's rear-view camera.
Removing blemishes from the paintwork can take anywhere from three hours to three weeks.
Panel gaps must be perfect.
This is Christophe Piochon, the man responsible for ensuring that each Chiron is perfectly built. He also provides a useful scale for the Chiron's huge front brakes.
Eighteen hundred individual components go into the making of each Chiron
Этот нужный веб портал , он описывает в статьях про хорошие телефоны до 10 тысяч
https://topobzor.info