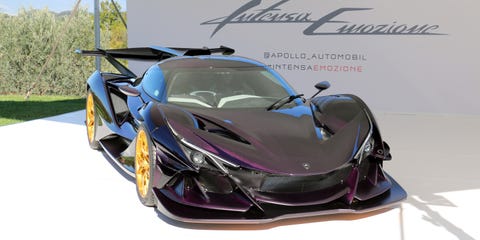 Máté Petrány / Road&Track
From the ruins of Gumpert comes Apollo, with a car that's here to beat all cards in the deck. The IE is a unique proposition powered by the best V12 one can get, built around the most advanced carbon chassis in the business. It's also a 208 miles per hour screaming rocket, designed by a 27-years-old in his living room.
780 horsepower from a naturally-aspirated 6.3 V12.
As well as 560 foot pounds of torque.
High downforce splitter with lower Jabroc-wood skid plates.
Full carbon fiber chassis and body construction.
High efficiency "spoon rear wing" twin elements, adjustable flap (&mn; 8°) connected to air scoop through a "whale-tale" carbon structure.
2976 lbs. of downforce at 186 miles per hour.

55.5 per cent downforce at the rear.
Double wishbone with pushrod and rocker, adjustable anti-roll-bars at both ends.
The IE is built in Italy by Manifattura Automobili Torino.
Custom electronics, designed by Apollo's German team.
Exposed carbon is an option, of course.
A curb weight of 2755 lbs.
6/4 piston carbon ceramic brakes from Brembo.
Adjustable Bilstein shocks.
All carbon-fibre chassis, including front and rear subframes.
Louvers for optimized airflow.
Fighter jet-style digital display.
Race-ready ABS and traction control options.
Removable carbon fiber steering wheel.
Hewland sequential 6-speed gearbox
5066 mm long, with a 2700 mm wheelbase.
At 1678 mm, the front track is wider than the rear.
Minimum distance from ground is 110 mm in normal setting / 60 mm in race-mode.
Distance from ground "lifted" 160 mm (electro-hydraulic actuated, possible only below 60 kph.
Track wheel setup at the rear: forged aluminum BBS rims 18", Michelin slick tires 310/710.
Нашел в интернете классный сайт , он описывает в статьях про гиалуроновая кислота
www.botoxclub.com.ua